Guggenheim Community Impact (GCI) drives volunteerism and maximizes the firm's collective impact. GCI campaigns take place annually during the spring, summer, and fall seasons.
This initiative advances Guggenheim's commitment to positive, scalable social change while promoting our guiding principles of integrity, excellence, and stewardship across our communities and offices.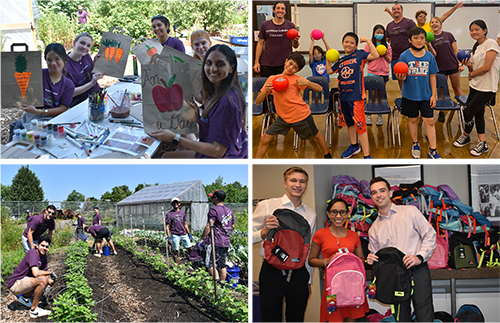 This July, more than 500 employees participated in Corporate Social Responsibility's (CSR) sixth-annual Guggenheim Community Impact (GCI) Summer campaign by volunteering to give back to the communities where they work and live. Collectively, employees and summer interns contributed more than 1,400 hours of service in partnership with 12 non-profit partners.
For the first time, CSR hosted "backpack-a-thon" events in several offices to assemble nearly 5,000 backpacks filled with school supplies for students from under-resourced neighborhoods. In partnership with Cradles to Crayons, the Kids In Need Foundation, and New York Cares, employees in Chicago, Houston, New York, and Rockville helped students prepare for a new academic year by delivering backpacks filled with supplies such as folders, notebooks, and calculators, an often unaffordable expense for low-income families.
In Chicago and New York, employees volunteered together and completed a variety of projects including empowering more than 25 elementary school students through sport and play with Urban Initiatives, completing a beautification project at the Garfield Park Conservatory, caring for animals awaiting adoption at Animal Haven, and preparing the entrance to a newly opened garden in St. Vartan Park with Partnerships for Parks.
Employees across offices participated in a virtual volunteer project by evaluating non-profit applications for the fourth cohort of the Network for Social Innovation, Guggenheim's venture philanthropy program to support the growth of innovative early-stage organizations. Volunteers also joined a workshop for adult job seekers and discussed tips for professional success in partnership with StreetWise Partners.
Summer Interns and Veteran Associates also gave back to their communities by renovating a home for a veteran family with the Fuller Center for Housing, preparing playgrounds, gardens, and classrooms for students' return to school with Big Shoulders Fund, assembling hygiene packages for military families staying at the Fisher House during critical medical treatment, and beautifying the Governors Island Teaching Garden with GrowNYC.
"I am grateful to all of the Guggenheim employees who stepped forward and gave back during this summer's Guggenheim Community Impact campaign, as well as the non-profit partners that invited our employees to support their important work," Robert Rutkoff, Head of CSR, said. "Through our collective efforts, we can continue to create meaningful impact in the communities where we work, live, and serve the firm's clients."
To learn more about Guggenheim's Corporate Social Responsibility efforts, click here.